SVRA
state.vehicle.recreation.areas
State Vehiclular Recreation Areas
These are the areas specially designed for those who wanna get as crazy & dusty as their hearts desire. Motor bikes, dune buggies, ATV & the occassional SUV have most of the freedom they want on these state designated off road lands.
Off-roading should be all the craze now that so many sport utility vehicles (SUV) are being sold. But very few people actually use these vehicles for what they are capable of. Curiousity & a sense of adventure should make you atleast wanna try it...once.
NOPE! You cannot just drive off-road anywhere you see an open field or desert. Most of the state of California you must abide by some kind of basic rules. Duh!!! Stay on dirt roads or trails. Keep off meadows. Read all signs carefully. Stay off private property. Close the gate behide you. Abuse of these precious public lands will get them closed off, for good and then no one (w/ motorized vehicle) will have access.
SUV - sport utility vehicles
ATV - all terrain vehicle
QUADS - 4 wheel terrain vehicle
BUGGY - dune buggies and sand rails
OHV - Off Highways Vehicle Parks
Off Road Tours - let the experts show you how
BackRoads - ever growing list of California's best dirt road drives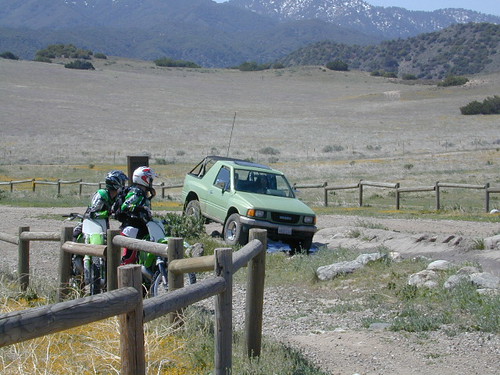 see also - California OHV areas (Off Highway Vehicle Recreation Areas)
Advertisement




Total Escape has been an AmazonAssociate for 20 years!
Earnings from purchases keeps this site alive.

Copyright &copy 1996-2023 Total Escape, totalescape.com / All Rights Reserved.
classic | lodge | recreation | destinations | journey | ads | sitemap | outside | maps | gear | mobile